When you travel, don't just do the normal touristy stuff. Explore and find the hidden gems of the city. Oslo has many of them, and we at K7 Hotel are here to guide you.
The historic wooden and low houses of urban Oslo
A devastating fire tragedy struck Oslo in 1624. Most of central Oslo burnt down to the ground. Wood has historically been the preferred building material, but after the city fire King Christian IV passed a new law. New buildings had to be fire-safe and made of stone bricks from that point on.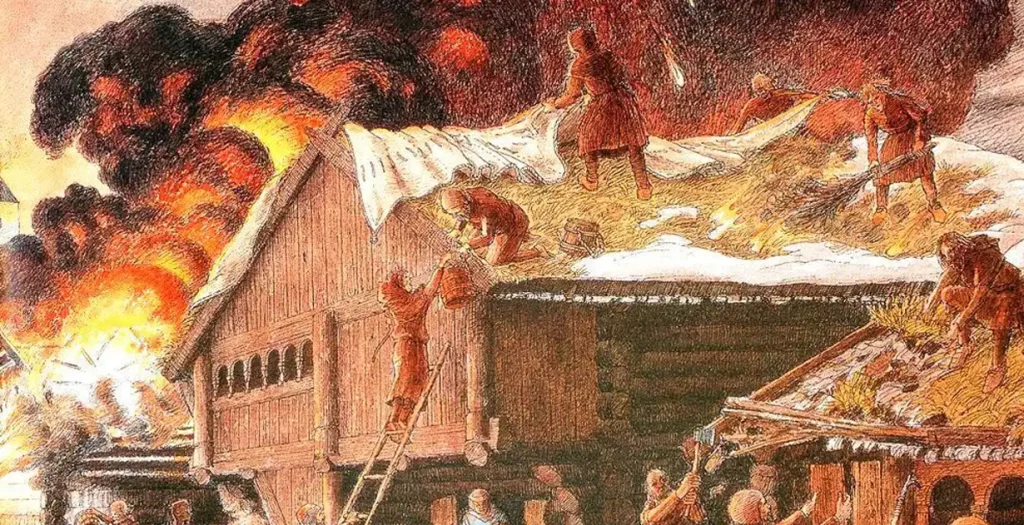 Because of this, there was an increase in the usage of wood as the preferred building material, outside the city limits. Mostly by the working class, since wood was a cheaper material to build with. And they were afraid that the new law would soon affect them as well, so they built fast.
In Oslo today you can see several little areas like these with wooden houses in the middle of the jungle of concrete and brick buildings. Here are a few places like this in central Oslo worth visiting:
Damstredet and telthusbakken
Damstredet is a cobbled street with a good mix of wooden and stone brick houses from the first half of the 19th century. What's also special is that many of houses er unusally low. The street is located between Akersveien and Fredensborgveien and is 160 meters long.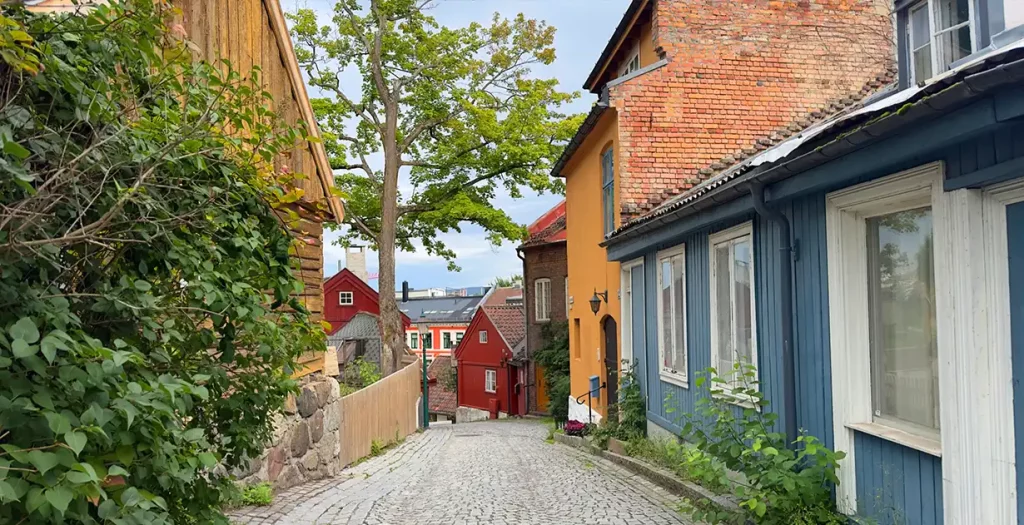 Most of the houses are from the late 1700s or early 1800s. Here you will find some very unique old and low houses, an old preserved stable and other well-kept architectural details. So take a good look around when walking this street. The houses were built between 1810 and 1860.
Telthusbakken is close to Damstredet, and starts near Akersveien. We recommend you start at the top of the hill, where you'll find Gamle Aker church, Oslo's oldest building (built with lime stone probably around the year 1130). If it's open you should step inside and have a look. It's so simple, yet so beautifully designed.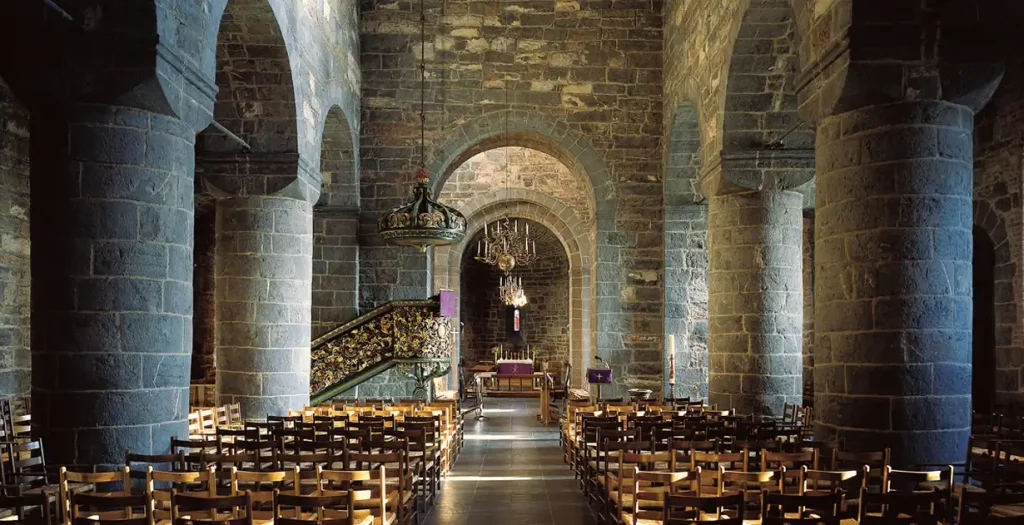 On the other side of Telthusbakken there is a large allotment garden (community garden), Egebergløkka.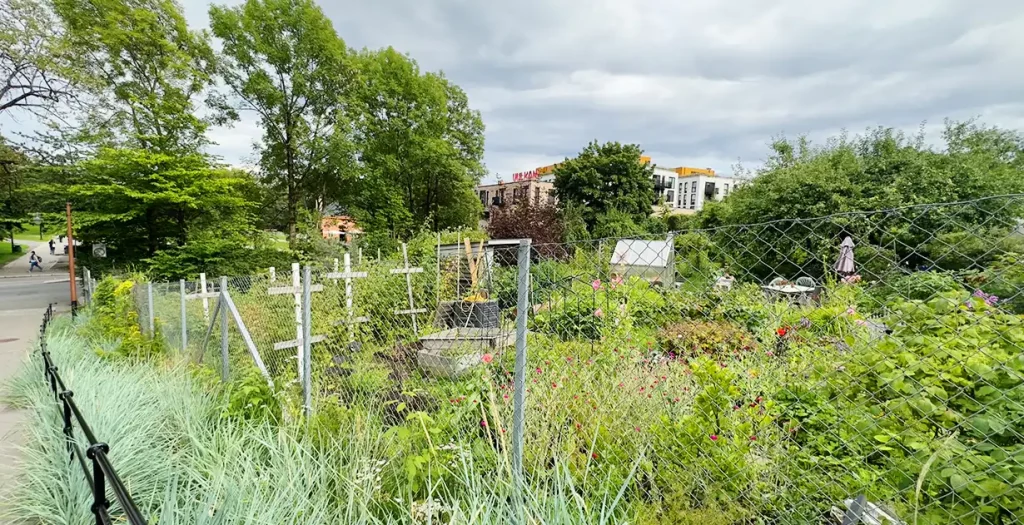 Along the garden you'll find the romantic trail Kjærlighetsstien (the trail of love). Telthusbakken was almost an abandoned and forgotten street until poor settlers came here in the late 18th century.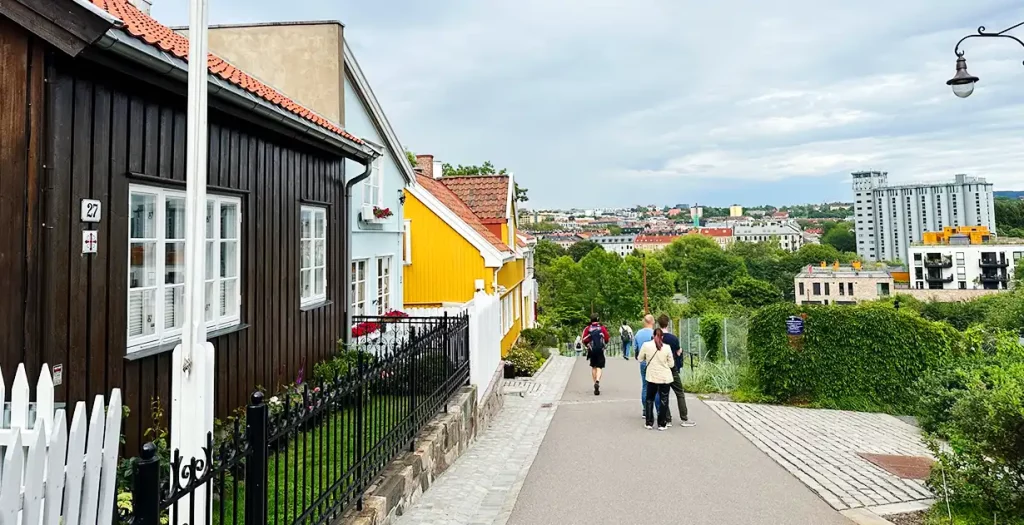 Before 1800, the north side of the hill had houses all the way up to the church. In the 1970's and 1980's the vast majority of the houses were thoroughly renovated.
Rodeløkka
Rodeløkka is on the east side of Grünerløkka and used to be a working-class neighborhood. Today Grünerløkka is exponentially growing in popularity, especially among young people. Grünerløkka is now a hip, trendy, vibrant, and very active part of Oslo.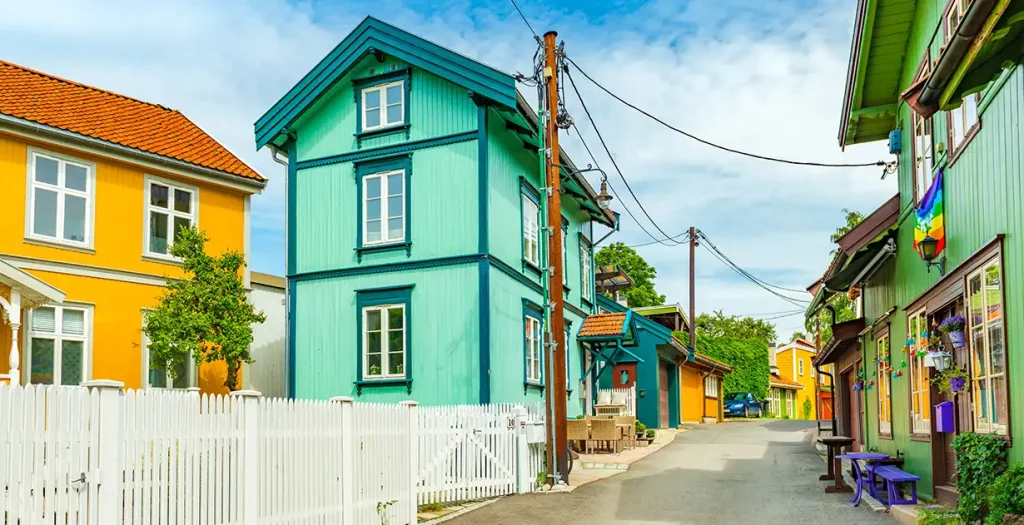 In 1624 when the new law was passed preventing new constructions made with wood, Rodeløkka was just outside the city limits. So this area saw a huge increase in construction with wood because of this. The working class wanted to use cheaper materials, and wood was a lot cheaper than stone bricks. In 1878 Rodeløkka was also implemented into the city limits and using wood was now no longer an option.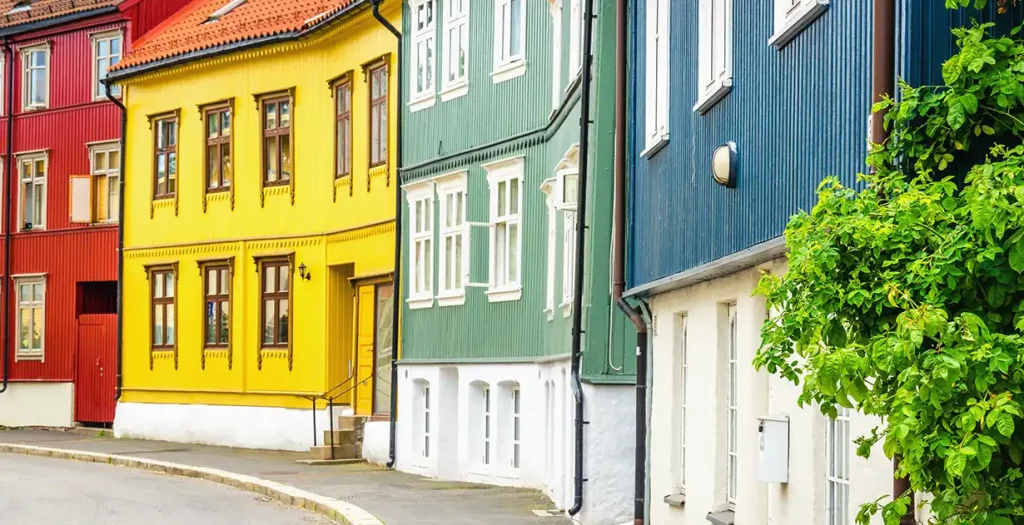 The preservation of approximately 137 wooden houses in Rodeløkka is a direct result of the unwavering efforts of the local community. Their opposition to the proposed demolitions in the 1970s ensured the continued existence of these historic structures. Several houses have undergone numerous renovations since then. Rodeløkka is now an idyllic place and still the home of many Oslo families. It's quite unique to walk from the west to east of Grünerløkka and suddenly see how the architectural style shifts from all brick and concrete to nearly all wood.
You can start walking from Gøteborggata through Verksgata to see this sudden shift. Or if you come by tram from the city center, you get off at Sofienberg tram stop and walk in to Rodeløkka from Vardøgata.
There are mainly three areas in Oslo with wooden houses that have been recognized by the city's antiquarian as being worthy of preservation. It's Rodeløkka of course, and also Vålerenga and Kampen. We recommend seeing these areas also if you have time.
The hidden passages of Oslo
Oslo has been through many big changes since the early 1600's, and the city has a melting pot of architectural styles and different building materials. Exploring Oslo's charming hidden passages and alleys is an absolute must. Since Oslo has become quite compact there aren't many left, but the ones that still exist are worth checking out as they all have their own unique story and vibe to it. Here are three passages we recommend walking through:
Citypassagen – a unique alley in Oslo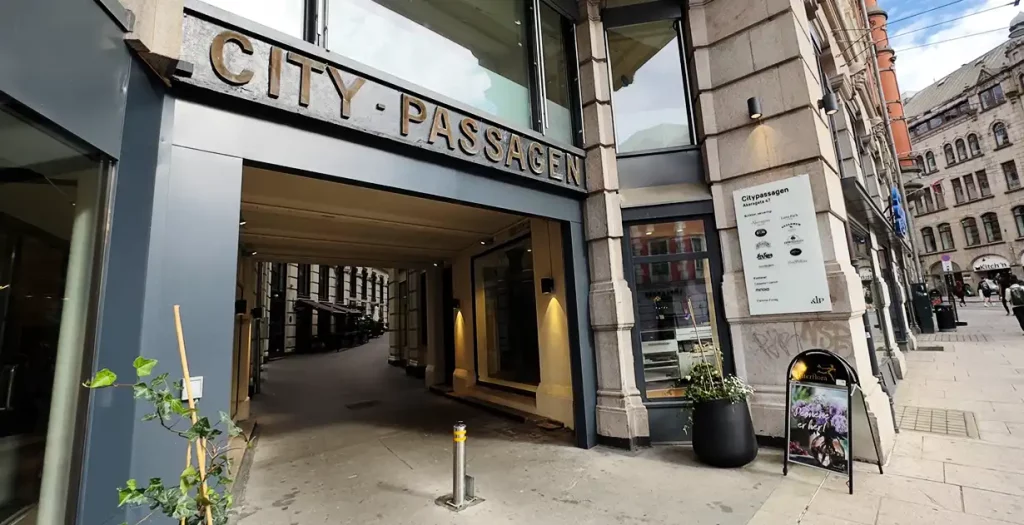 Citypassagen runs between Akersgata and Pilestredet. The alley consists of three different buildings from 1897, 1953 and 1994. The first building from 1897 was designed by two of the most reputable architects of the time; Ekman and Smith.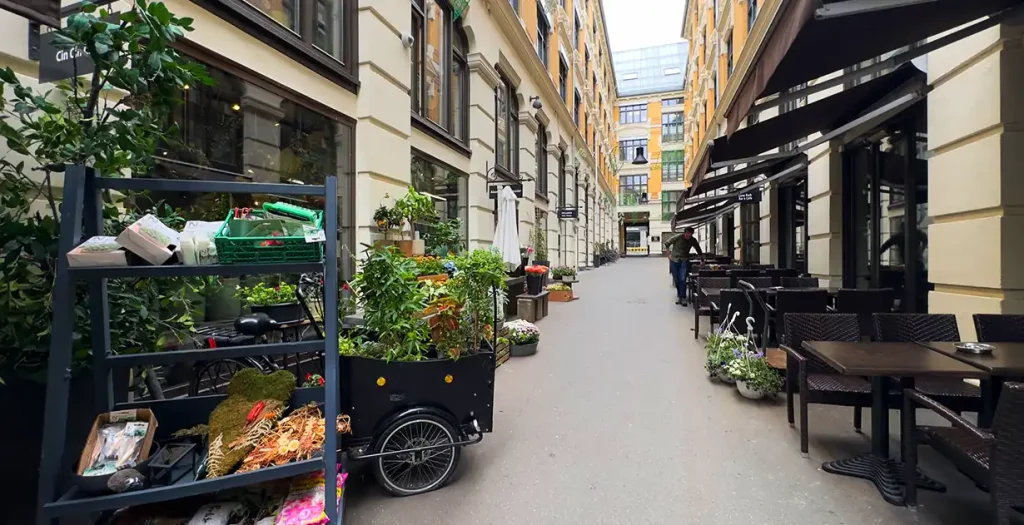 Open passageways between shopping streets were a way of creating business facades inside the quarters. Citypassagen has a high value as a well-preserved example of a group of cultural monuments which today have almost disappeared from the cityscape. It forms a great urban space that still houses some shops, cafés and restaurants. You'll find the entrances to Citypassagen at Pilestredet 8 or at Akersgaten 47.
Strøget – a cozy passage filled with bars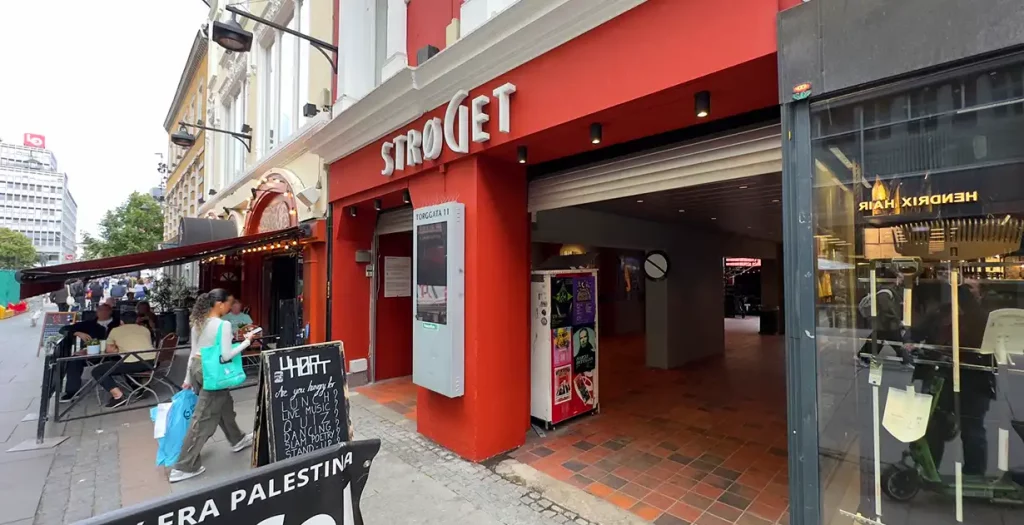 Strøget is a well-worth-visiting passage in central Oslo. In the passage, that may go unnoticed if you are not aware of its presence, there are many bars and restaurants. So, make sure not to miss it.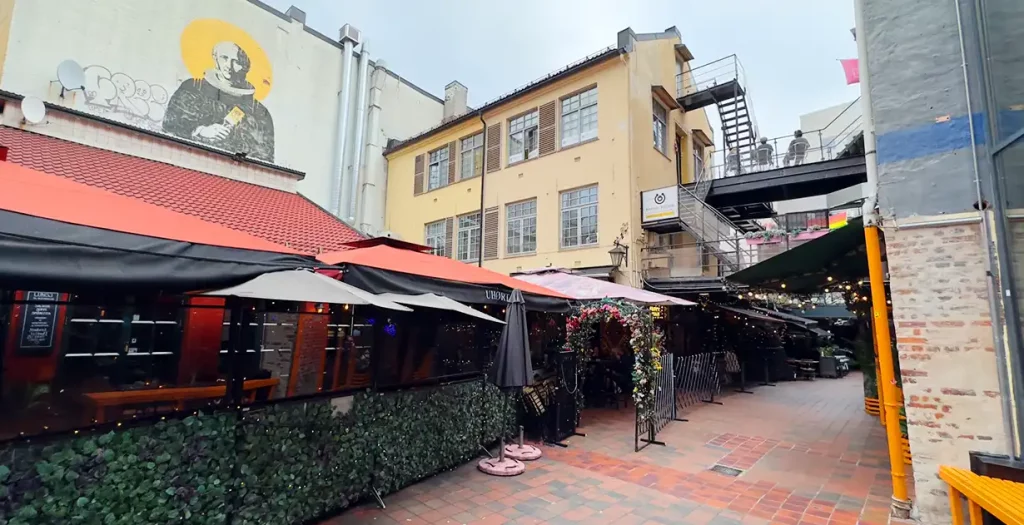 Established in 1970 as a shopping street, Strøget now boasts 5-6 bars and cafes that offer delicious food and refreshing drinks throughout the year. On weekends, these bars make for an enjoyable party atmosphere.
Tullin – A new and modernized area of Oslo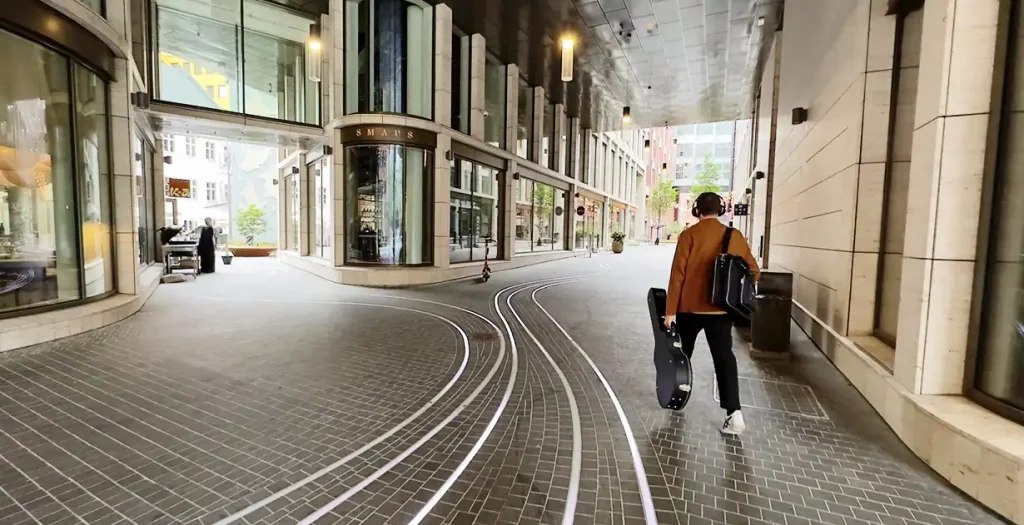 The area of Tullin in Oslo has long been due for a renovation. But during the last 5-10 years there has been a massive upgrade of old buildings, as well as some new additions to the cityscape here. In the start of the street Universitetsgata, you will find a brand new building complex from 2022 with a newly opened passage, Tullinpassasjen.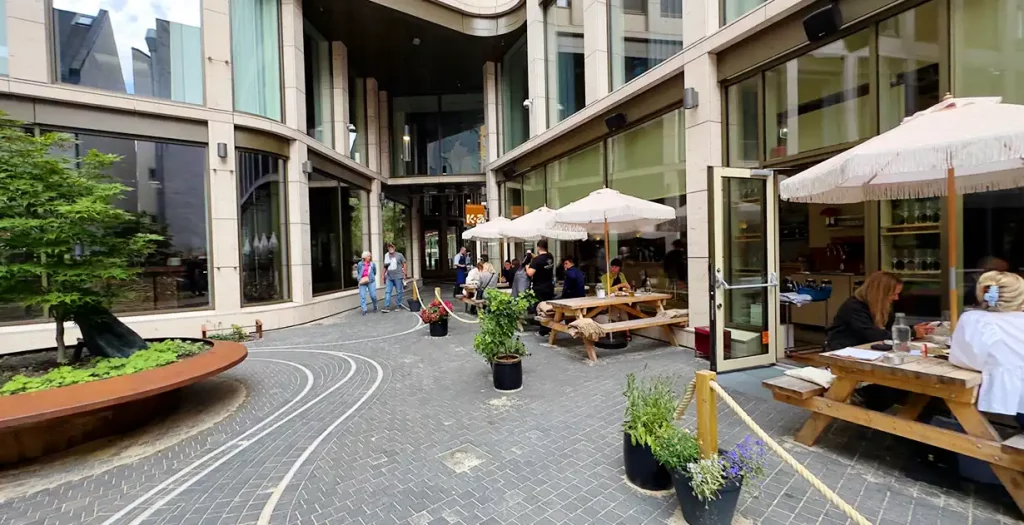 The passage is very modern and sleek-looking with lights in the ground leading the way through. Here you will find restaurants, bars, shops and even a roof terrace. You'll find the entrance to passage at Universitetsgata 1.
Stay central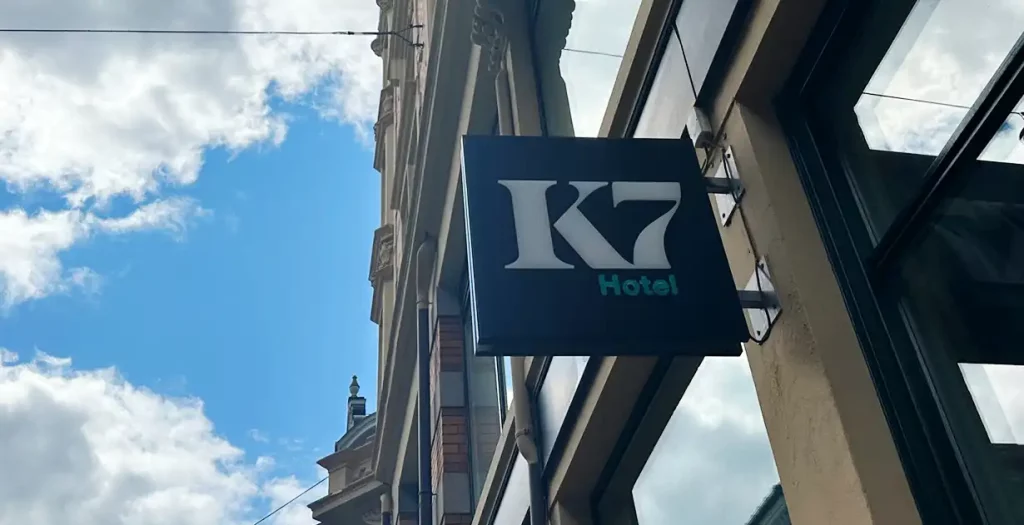 At K7 Hotel Oslo you can live within walking distance to all of the sights mentioned in this article, as well as many other attractions and historical buildings in Oslo.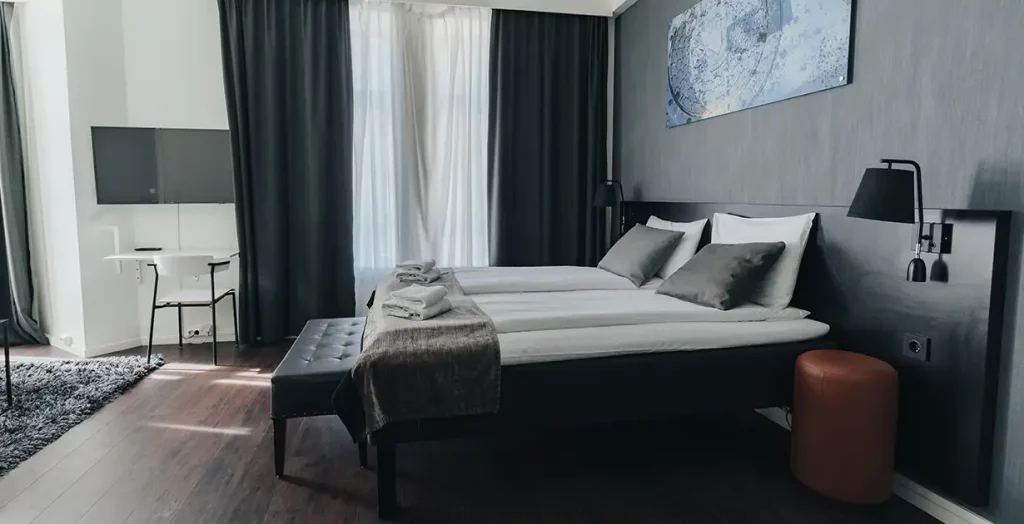 The hotel offers premium and economy rooms, as well as family rooms and dorms (just like a hostel). Click here to read more about what the hotel can offer you as a guest.