If you're staying in a central hotel when visiting Oslo, you have hundreds of options for having a great breakfast every day. Here are 5 recommendations for you.
1. Continental breakfast at K7 Hotel Oslo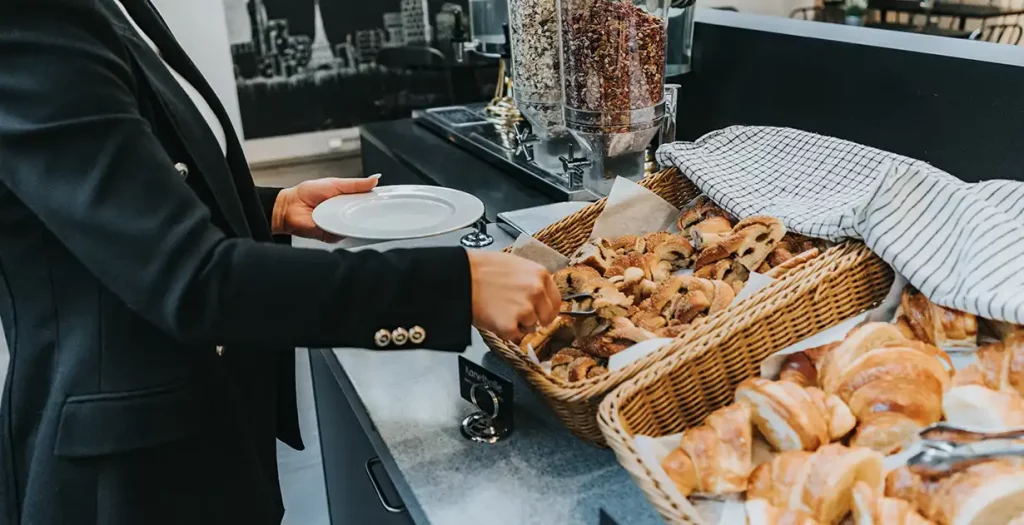 We can offer a light continental breakfast if you're staying at our hotel, K7 Hotel Oslo. You'll find bread, cheese, ham, milk, juice, coffee, cereal, and more here. Our selection is varied. We also serve some of the finest pastries there is from our collaborator bakery: Åpent Bakeri. Often you can enjoy freshly made croissants, buns, danish pastry or even yoghurt with granola. The good thing about our hotel is that we also offer our guests to use the kitchen to prepare their own meals also.
2. Breakfast buffet at Spor av Nord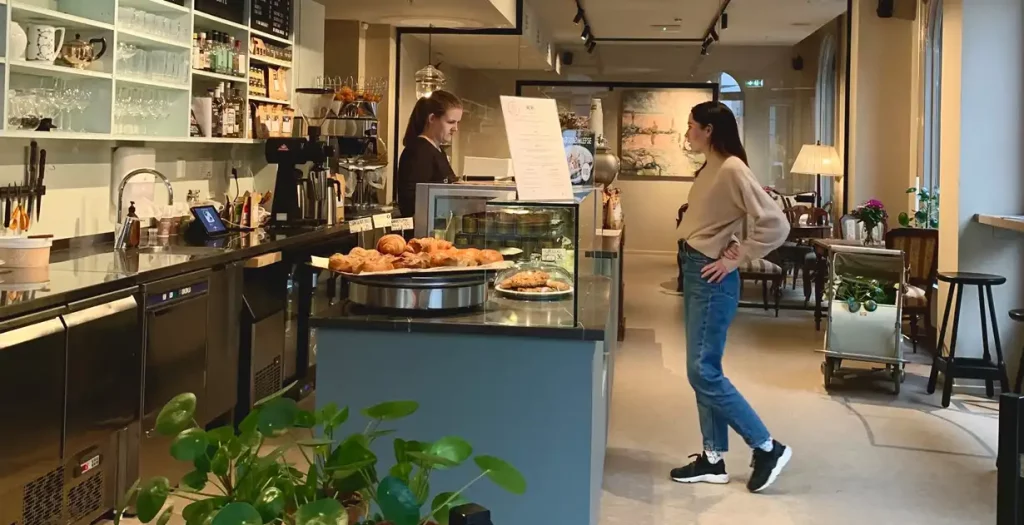 Spor av Nord is a cosy little café in central Oslo that offers a breakfast buffet usually from 8:00 in the morning. Here you'll find different selection of bread, ham, cheese, cereal, juice. All served in a very nice ambience. If you're want a late breakfast you can also consider a brunch. From 10:00 they usually serve from the regular menu. How about a traditional Norwegian shrimp salad on toast? Or maybe some pancakes with home-made jam? Their menu of course changes from time to time, but they often have different types of soups, pastas and stews. Bon appetit!
3. Experience a fancier breakfast at Grand Hotel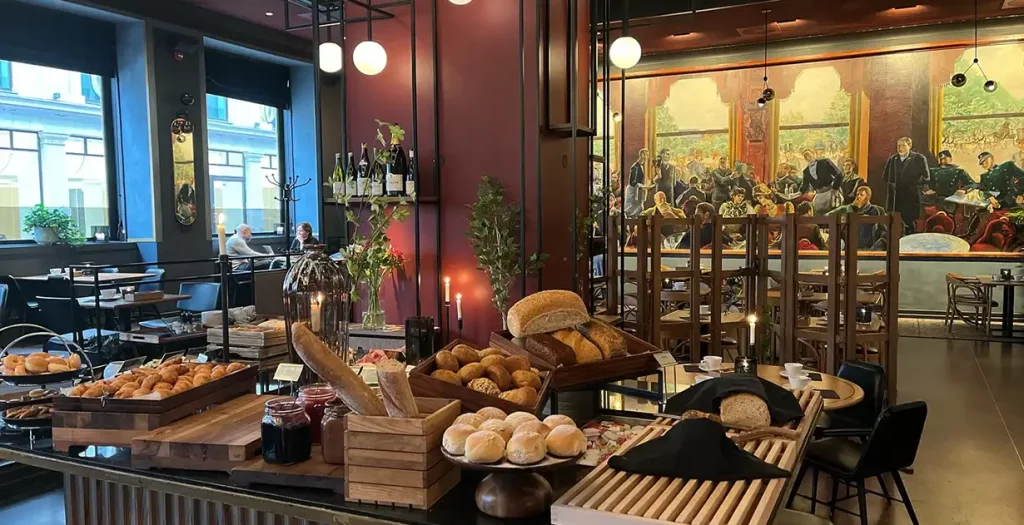 Are you craving a more fancy breakfast buffet with a bigger selection, we can recommend Grand Hotel. The breakfast is served at the Grand Café in the first floor of the hotel. Here you can enjoy a wider selection of food in a truly historical location. Grand Hotel Oslo is in the middle of the main shopping street, Karl Johans gate. The Grand Café opened in 1874. And during the 1880s and 1890s, the Grand Café was an important meeting place for artists and intellectuals. Even the famous writer Henrik Ibsen was known for his daily visits in the late 1890s. There's a lot to see and worth eating here once if only for the sake of the attraction. Read more on their webpage.
4. Enjoy a vegetarian breakfast at Fragrance of the heart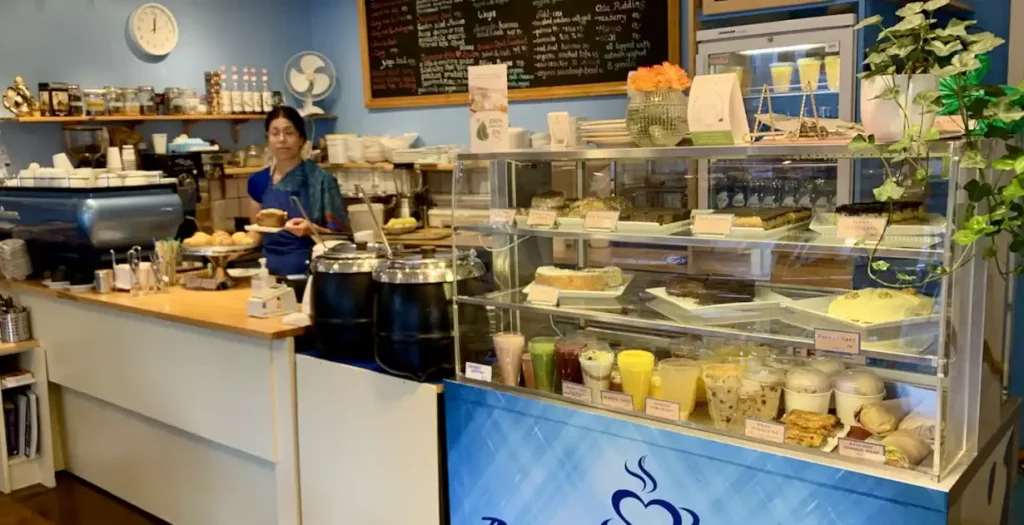 Wether you are a vegetarian or not, we highly recommend you try eating breakfast, brunch or lunch at Fragrance of the heart. At least once. It's truly an experience, and this is food made with passion. It is a coffee bar with a focus on biodynamic food: Raw food, salad, quiche, soups and sandwiches. The concept inspired by the guru Sri Chinmoy. The Fragrance of the Heart is among the first vegetarian and vegan restaurants in Oslo, Norway. Fragrance of the heart has two locations, one in downtown Oslo and one in the area of Majorstuen. If you are downtown you can navigate to Fridtjof Nansens Plass 2. They are usually open all days, from 9:00 in the morning, but sometimes closed on sundays.
5. Go to a traditional german-inspired bakery at Backstube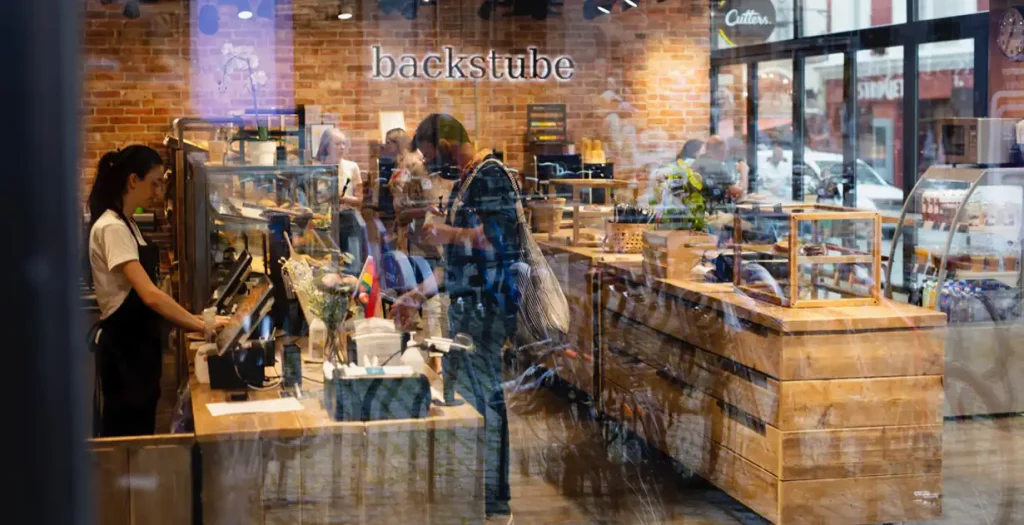 Ok, this is'nt a Norwegian concept, but we sure do like it! Backstube actually have several bakeries in Oslo. The concept is easy. You get in line, grab a pinch and a paper bag, then as you walk through the line you pick your food from the entire selection as you get closer and closer to the counter to pay. Just so simple and effective! They have bread, german style "Brezel", french pastry, Apple cake, and danish pastry. And they also have all kinds of ready-made baguettes or ciabattas with ham, chesse, lettuce, tomato, and many more options. Oh, and "Backstube" literally means "Bakery", if you were wondering. Ready to order? Then navigate to Prinsens gate 2 in downtown Oslo.